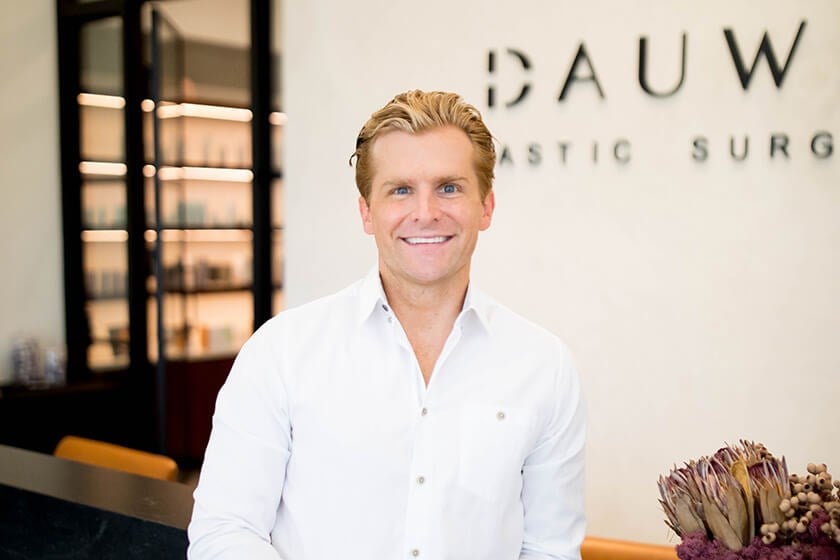 Dallas, TX board-certified plastic surgeon Dr. Phillip Dauwe specializes in aesthetic and plastic surgery for the face, breast, and body at Dauwe Plastic Surgery in Dallas, TX. He takes his time to thoroughly listen and address his patient's concerns to create customized treatment plans that achieve their unique goals. By developing a precise surgical plan, it enables him and his patients to move forward confidently. His steadfastness, attention to detail, and artistic skillset have helped transform the lives of so many men and women. Dr. Dauwe's love for plastic surgery is evident in every aspect of his practice. The impact he has on his patients' lives is extraordinary, but he also enjoys the artistry and innovation of his profession.
Dr. Dauwe is adept at performing a wide range of surgical and nonsurgical procedures for the breast, body, and face. Some of his most popular procedures include breast augmentation, breast implant revision, breast lifts, and mommy makeovers. He is highly trained and experienced in performing drainless tummy tucks, facelifts, liposuction, Brazilian butt lifts, buccal fat removal, and other body contouring surgeries. In addition, he is pleased to offer nonsurgical procedures, such as laser tattoo removal, skin resurfacing, CoolSculpting, BOTOX, Dysport, Juvéderm, and Kybella.
Dr. Dauwe was born and raised in Dallas, TX and studied at Jesuit College Prep and Southern Methodist University. He graduated Summa Cum Laude and at the top of his class in the honors business program. He went on to attend the University of Texas Southwestern for four years of medical school and six years of plastic surgery residency. Dr. Dauwe was then selected for the University of Southern California aesthetic surgery fellowship where he studied advanced techniques in aesthetic surgery of the breast, body, and face.
Dr. Dauwe is board certified by the American Board of Plastic Surgery, undergoing many years of rigorous training in the field of plastic surgery. As a board-certified plastic surgeon, Dr. Dauwe is held to the highest standards when it comes to skills, ethics, knowledge, patient safety, and, judgment. These are key factors in producing highly-effective surgical outcomes for his patients.
Dr. Dauwe learned very early on in his schooling that plastic surgery was to be his life's commitment. During training, Dr. Dauwe's research focused on technique development in aesthetic surgery, specifically in facelift, rhinoplasty, breast surgery, facial reconstruction, and nonsurgical devices. His efforts have resulted in textbook chapters, podium presentations, and peer-reviewed manuscripts. Below are a few of his most recent publications.
Phillip Dauwe, M.D., "Fat Grafting" in Essentials of Plastic Surgery 3rd Edition. Thieme Publishers, 2018.
Gould DJ, Macias LH, Saeg F, Dauwe P, Hammoudeh Z, Grant Stevens W. "Seroma Rates Are Not Increased When Combining Liposuction With Progressive Tension Suture Abdominoplasty: A Retrospective Cohort Study of 619 Patients." Aesthetic Surgery J. 2018 Jun 13;38(7):763-769.
Phillip Dauwe, M.D., Benson Pulikkottil, M.D., Ronnie Pezeshk, M.D., Rod Rohrich, M.D., "The importance of the anterior septal angle in the open dorsal approach to rhinoplasty." Plast Reconstr Surg. 2017 Mar;139(3):604-612.
"My approach is one of thoughtfulness, confidence, and relationship-focus. I humbly respect the awesome privilege of performing aesthetic surgery, and I consider all individuals whom I am privileged to treat, patients for life."
– Dr. Phillip Dauwe
Privileges
Reviews
"Dr. Dauwe and his staff are like a dream team! I legit leave wanting to be friends with his staff they are all so adorable. Seriously though, any type of surgery is so scary and they make the experience so comfortable. I felt like he listened to what I wanted and was honest with what was going to be realistic with my body type. I was referred by Dr.Dauwe by a few of my clients and am so thankful I chose him to do my procedure. If you're in the Dallas area I wouldn't recommend anyone else. Truly grateful to have had such an amazing experience! Thank you Dr. Dauwe for everything!"
T.C.
Google
"Kylie does an incredible job and makes you feel so relaxed while she is doing her facials derma planing and so much more. She is informative and tells you about the results. She's also honest when she thinks you need something or if you don't need some thing this I really appreciate. I love going there and getting facials with Kylie You cannot go wrong with her !!"
C.V.
Google
"Dr Dauwe is amazing. He spends however much time you need for consult and does not make you feel rushed! He did amazing job on my surgery and his office staff is literally the best!!! They respond back quickly and are so nice from the front staff to the back! Definitely recommend!!!"
A.E.
Google
"I am now a little over 2 months post op after Dr. Dauwe performed a tummy tuck, breast lift and implant exchange for much smaller implants. I cannot say enough about how incredible my whole experience has been. Dr. Dauwe truly listened to what I was trying to achieve and my results are even better than I could have anticipated. He has given me so much more self confidence especially at 56 years old. He is such an amazing surgeon! He has an amazing staff too. Even the surgical center was the best I have encountered. I highly recommend Dr. Dauwe!!!"
K.K.
Google
"I came to Dr. Dauwe for a breast lift and the experience has been amazing. I'm only 3 weeks post op but Dr. Dauwe did a great job with my lift and making everything look proportional and the down time was very minimal! He is very thorough in his work and it shows! I'll be going back around 6 months for implants to be put in and I already know he's going to do a great job. Not to mention his practice manager, Julie Garcia is such a delight to work with! She's extremely personable and is so extremely helpful with all my questions I have (trust me it's a lot). The staff is so friendly and kind I cannot imagine going anywhere else!"
M.M.
Google
Related Posts